We pursue development of cold forging.
Our strong points are the original technology and partnerships.
We have manufactured work tools and custom-made tools for many years.
We support manufacturing process totaly;
planning and design to testing and manufacturing.
We flexibly offer mass production and wide variety small lot production in
cold forging process.
Main Products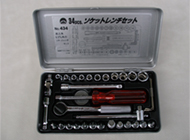 Socket Wrench
34pcs 1/4"sq,dr. Socket Wrench Sets
21pcs 1/4"&3/8"sq,dr. Socket Sets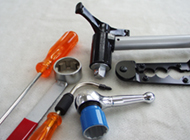 Special Custom-Made Tools
We cope with customer's problem.
The problem is special environment and cannot be dealt with normal tools.
We design and manufacture the special custom-made tools.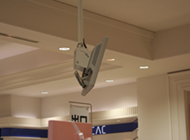 TV Monitor Hanger
Ceiling bracket for display monitor. Developed pivot attachment to eliminate falling hazard.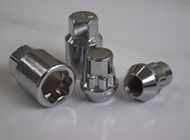 Special Wheel Nat & Key Socket
(Forged parts 1)
Tamper-proof car supplies. Forging is suitable for manufacturing complex shape; inside and outside.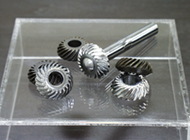 Spiral Bevel Gear
(Forged parts 2)
Mainly produced by cutting. Achieved manufacturing with cold forging by improving new structure and technology.
Copyright © Kansai Crown Co., Ltd. All Rights Reserved.